An exciting new feature is now available on the DRACOON cloud: Notifications for DRACOON!
Through this feature, users are automatically notified by email when relevant events occur in their DRACOON and will be informed about the change that happened.
Notifications leverage teamwork and make sure that users can react quickly to relevant changes in their DRACOON.

Events for notifications
There are four events that can trigger a notification:
New data room permissions: Users immediately receive a notification email when a room administrator has granted them access to a data room or when the user's existing permissions for a data room have changed.



Example: Notification email for new data room permissions
Clicking the mentioned data room (here Materials)
opens it in the DRACOON Web App.

New group membership: Users immediately receive a notification email when they are added to a group.
New file uploads (in specific rooms): Users receive a notification email when other users upload new files to a data room that the user has selected for notifications. By default, the notification email is sent immediately, but just a daily summary can be sent if desired.
New file comments (for specific files): Users immediately receive a notification email when other users add a comment to a specific file.
For the future, we might consider additional notification scenarios.

Notification settings in the user profile
The above four notifications are active by default. Each user can specify individual settings for notifications in the user profile, where certain notification scenarios can be disabled and, in addition, the notification interval for newly uploaded files can be reduced to once a day.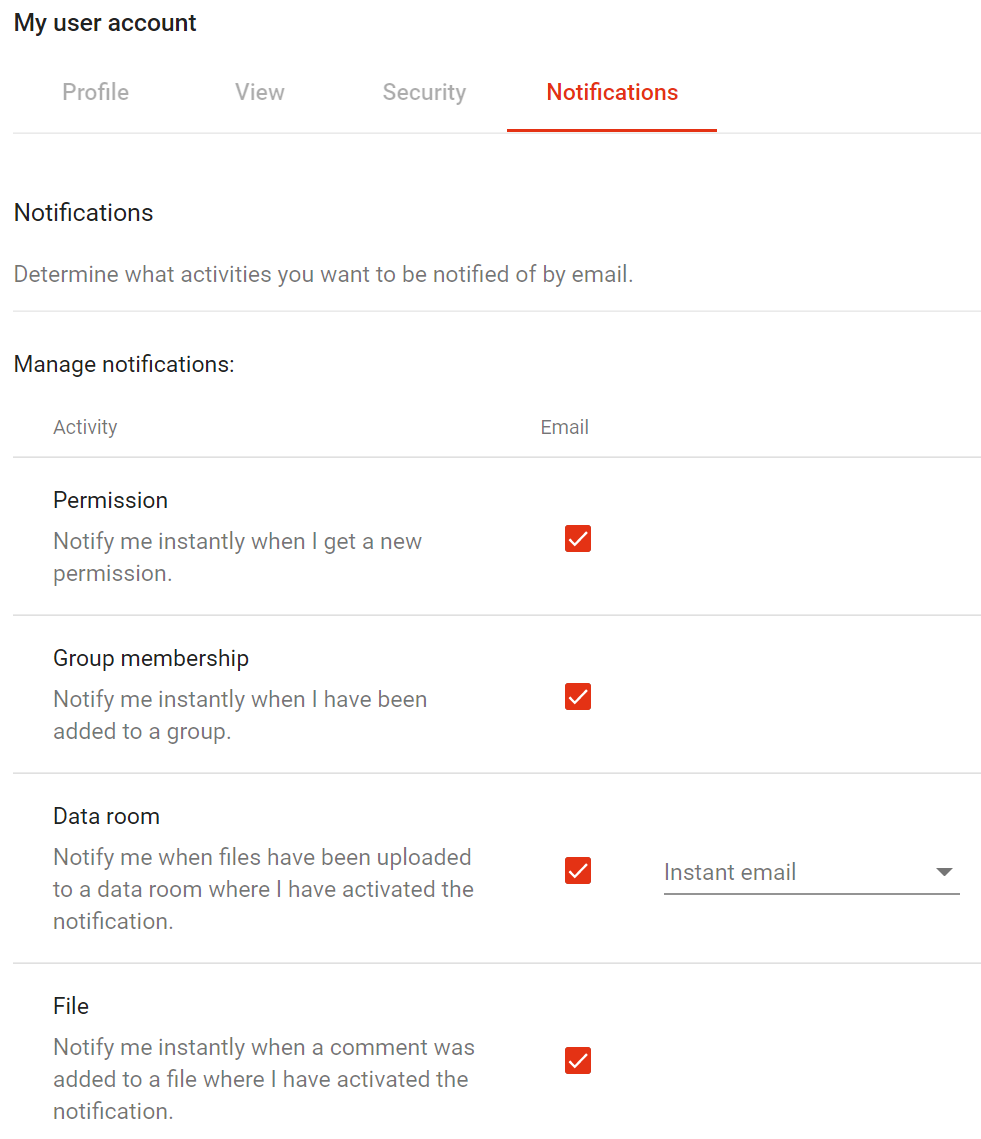 In the user profile, each user can specify individual notification settings
and disable certain notification scenarios if desired.

Selecting data rooms for notifications of newly uploaded files
Users can choose separately for each data room whether they want to be notified about newly uploaded files.
Clicking the new bell button (next to the Upload button) activates notifications for newly uploaded files in the current data room (unless this notification scenario has been disabled in the user profile):


A highlighted and no longer crossed out bell icon indicates that notifications of newly uploaded files are active in this data room:



Selecting files for notification of new file comments
If users want to be notified about new comments from other users on a certain file, they can activate the notification in the detail view of the file (in which the file comments are also displayed on the right):
Clicking the three-dot button in the detail view of a file displays the Notify about comments command for this file: