Release date: March 8, 2021

About this release
Version 6.2 of DRACOON for Outlook for DRACOON cloud users introduces a major new feature: Email Protection.
In addition, the new version includes revised icons for the ribbon, which better match the icon style of recent Outlook versions.
New feature
New

Email Protection

In version 5.9, we added Full Email Encryption to DRACOON for Outlook—a highly secure method for sending emails with special security requirements.
In the latest version 6.2, we have improved this feature even further, mostly based on customer feedback. As a result, Full Email Encryption is now called Email Protection and is even more versatile while including all previous functionality.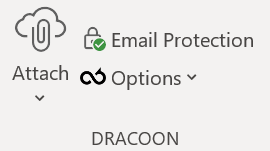 Differences between the previous Full Email Encryption and the new Email Protection
The new Email Protection no longer requires an encrypted data room. While it is still possible to choose an encrypted data room as the storage location for protected emails—in which case the new Email Protection behaves exactly as the previous Full Email Encryption—it is no longer mandatory.
The email is now provided to the recipient as an EML file by default, rather than a PDF file. EML is a file format specifically for emails and therefore offers some advantages—for example, it is possible to send a reply after opening an EML file with Outlook.
Alternatively, an email can still be provided to the recipient as a PDF file, which can now even be read directly in the browser and no longer has to be downloaded unless an encrypted data room has been selected as the storage location.
Since Email Protection is only required in special cases—such as for certain emails with high-security requirements—it is automatically turned off again after sending a protected email.
The previous Full Email Encryption, on the other hand, remained active once it had been used, which could lead to the next emails being sent fully encrypted unintentionally.
Preconfiguration by administrators
If required, when rolling out DRACOON for Outlook, Email Protection can be preconfigured through registry values that are distributed via group policies. For example, Email Protection can be completely disabled or the file format of the protected emails (EML or PDF) can be specified.
Improvement
Version 6.2 of DRACOON for Outlook uses revised icons in the Outlook ribbon that are thinner and therefore better suit the icon style of recent Outlook versions: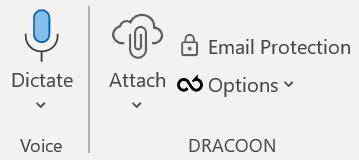 ---