When a room administrator adds users to his data room, he is allowed to see all existing users in DRACOON by default, in that all matching users from DRACOON are listed when entering a searched username.
Example: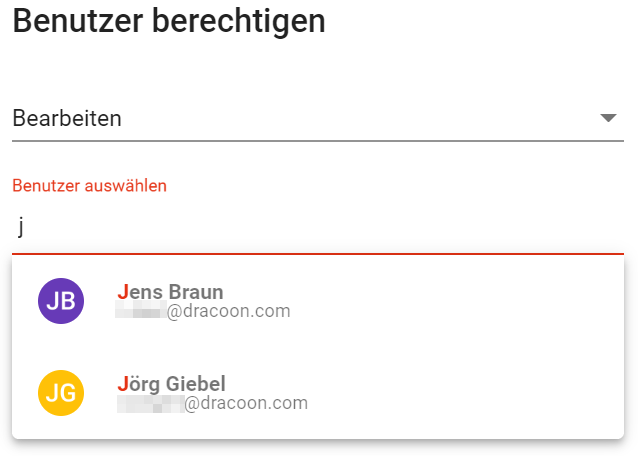 In exceptional cases, however, this may not be desired, e.g. if an external service provider is provided with its own data room for a project in which this room administrator is not allowed to see which users of other service providers exist in DRACOON.
For such cases, the global "See all users" permission can be revoked from the user in question. Then, when typing usernames, the user will no longer be shown a list of all matching users and groups - instead, the user must enter the searched username completely and correctly to be able to add the user to a data room.
If the global permission "See all users" is revoked for a user, this is automatically effective for the user in all data rooms in which he is room administrator.
The setting also affects the listing of all groups - these are then also no longer displayed to the room administrator when typing in.
Revoke a user's "See all users" permission
Click Settings in the left sidebar. The user administration is displayed.
Highlight the user who should have the "See all users" permission revoked.
DIn the right sidebar, under Global Permission, clear the See all users check box..
The change is active immediately. In the future, when entering a username while adding users to a data room, the user will no longer be shown matching users.