Problem
Encryption cannot be enabled for a particular data room. Although the instructions "Enable client-side encryption for a data room" were followed, the following dialog box for enabling encryption does not appear when you open the data room: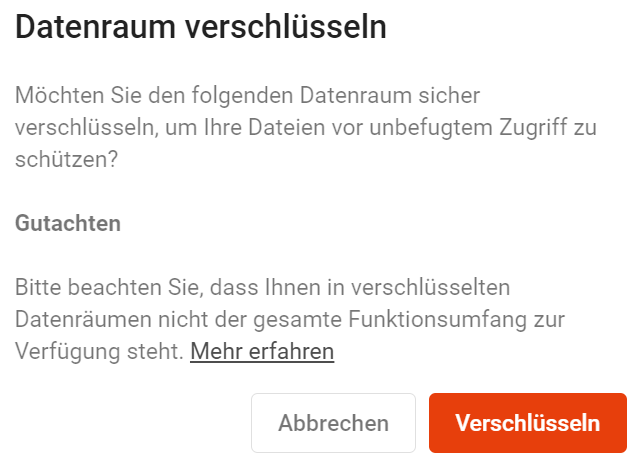 How to enable encryption in the data room?
Possible causes
If the Encrypt Dataspace dialog box does not appear when you open a dataspace, it may be due to the following reasons:
The data room is not empty.
The data room already contains files, (empty) folders, subspaces, or items in the trash. However, a data room must be completely empty and have no subspaces for encryption to be enabled for the room. Also, the recycle bin of the data room must be completely empty.
Empty the recycle bin of a data room
You are trying to encrypt a subordinate data room (which is not on the top level in DRACOON).
Encryption can be enabled only for top-level data rooms in DRACOON, but not for subordinate rooms. (If an empty top-level data room is encrypted, all its future subordinate data rooms will automatically be encrypted as well).
The client-side encryption has not yet been allowed in your DRACOON.
Before encryption can be activated for individual data rooms, it must first be allowed once by the configuration manager for DRACOON.
If You are not sure whether the client-side encryption is allowed in your DRACOON is allowed, click in the DRACOON Web App on the right above on your profile picture, after that on Manage user account and the register Security. Wenn Sie den Bereich Entschlüsselung Kennwortbereich in der Mitte der Seite sehen, ist die clientseitige Verschlüsselung in Ihrem DRACOON aktiviert und sollte daher auch in Datenräumen aktiviert werden können.
You are not a room administrator in the data room.
Only the room administrators of a data room can enable encryption for the room.
You can check whether you are the room administrator in the relevant data room by clicking the View the list of room administrators of the room.