Release date: June 25, 2020

About this release
Version 4.0 of DRACOON for Windows/Mac offers numerous new features, minor improvements, and bug fixes.
The update to this version is recommended for all users of DRACOON for Windows/Mac.
Please note: After installing the update, the PC must be restarted.
New features
File locking for Word and Excel files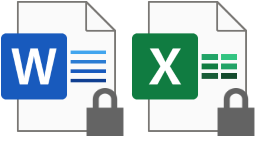 In version 4.0 of DRACOON for Windows/Mac, the file locking mechanism provided by Microsoft Word and Excel for Word documents and Excel files is now supported. For example, if you open a Word document on your DRACOON drive, it will be locked for editing by other DRACOON users until you close the file.
File locking is disabled by default. If desired, it can be enabled under Preferences > Connection > Lock Files.
Please note that the permission Delete files/folders in the respective data room is required for file locking to work.
Display and restoring of previous file versions
Version 4.0 of DRACOON for Windows/Mac now displays the previous versions of a file and makes it easy to return to a specific version by simply clicking "Revert".


Synchronization history and more detailed synchronization status
Version 4.0 of DRACOON for Windows/Mac now offers a history of the 8 latest sync operations. You can check the sync history to learn more about the most recent syncs events, such as which files were affected, the direction of a sync event (up- or download), and the time the sync happened.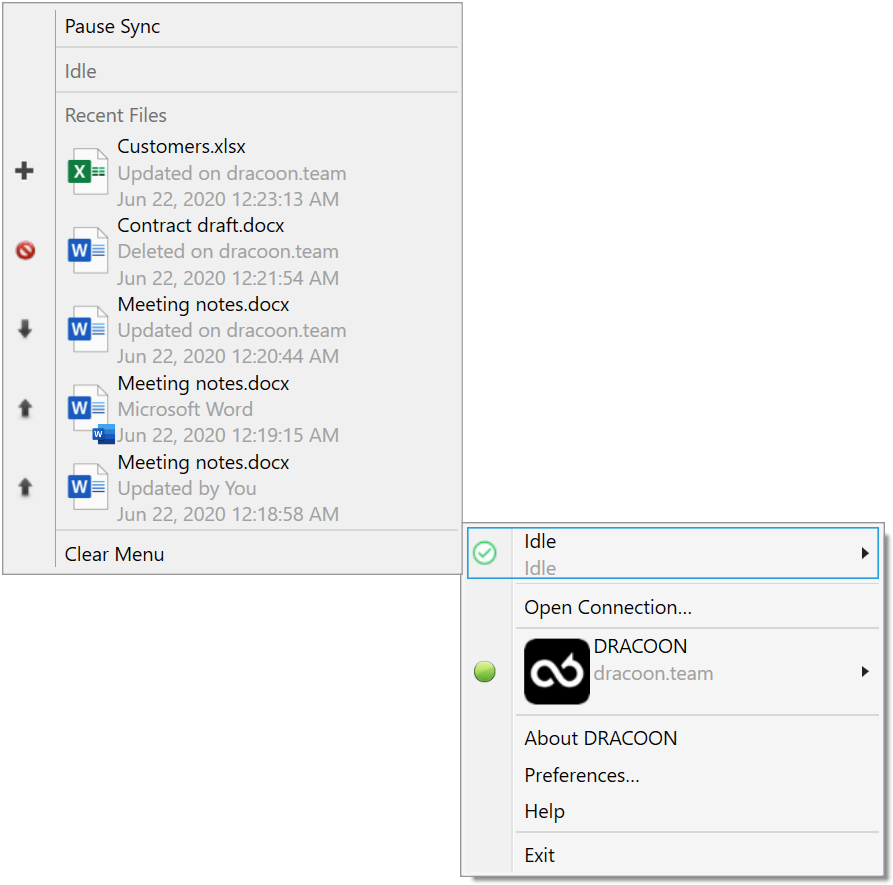 More details about running sync operations: The new sync history also displays detailed information about ongoing sync operations at the top, such as the amount of data already uploaded, the current transfer rate, and the estimated time remaining.


Minor improvements and optimizations
This update of DRACOON for Windows/Mac also includes minor improvements and optimizations. For example, all DRACOON commands on the file shortcut menu in File Explorer (Windows) and the Finder (Mac) have been moved to a submenu named "DRACOON", which improves usability and keeps the shortcut menu clean.
Bug fixes
The following problems were fixed in version 4.0 of DRACOON for Windows/Mac:
Most of these problems only occurred in specific cases, e.g. under certain exceptional circumstances. The vast majority of users were not affected.
File Explorer reacts slowly after certain actions on the DRACOON drive. SDS-808 BUG
The contents of large folders (with thousands of files) are not displayed even after several minutes. SDS-852 BUG
High CPU usage when displaying the DRACOON drive under certain conditions SDS-831 BUG
A newly created folder is no longer displayed after entering a name for the folder. SDS-936 BUG
It may not be possible to move files to a recently created folder. SDS-939 BUG
In DRACOON for Windows, you can create folders on the top level (where only data rooms are allowed in DRACOON). These folders will remain in DRACOON for Windows until the DRACOON bookmark is deleted. SDS-946 BUG
A data room with empty recycle bin might not have been displayed (only occurred in version 3.4) SDS-876 BUG
A PDF file is no longer synchronized after editing with Adobe Reader. SDS-949 BUG
A synchronization problem occurs when saving a previously locked Word or Excel file. SDS-868 BUG
Under Windows 7, a file on the DRACOON drive cannot be opened due to an outdated configuration of the .NET Framework 4.7. SDS-831 BUG
When starting DRACOON for Windows/Mac, the error message "ArrayIndexOutOfBounds" is displayed. SDS-866 BUG
DRACOON for Windows cannot be started if folder redirection is enabled (by group policy). SDS-197 BUG
The desired drive letter is not used for the DRACOON drive under certain conditions. SDS-877 BUG
The DRACOON button in the toolbar of the Finder (Mac) sometimes does not work. SDS-927 BUG
If a download share is created with DRACOON for Mac and the creation is canceled, the DRACOON commands disappear from the context menu in the Finder. SDS-918 BUG