Before DRACOON for Teams can be used, it must first be allowed in your DRACOON environment, and the custom Teams app "DRACOON for Teams" must be uploaded and deployed in the Microsoft Teams admin center by the Teams administrator.
After that, DRACOON for Teams can be added to the team and will be automatically available for all team members.
Step 1: Allow DRACOON for Teams in your DRACOON environment
In the DRACOON Web App, in the left sidebar, click Settings, and then click Apps.

You'll need the Config Manager role for this.

Turn on the DRACOON for Teams switch if it is turned off.
Step 2: Upload and deploy DRACOON for Teams
The DRACOON for Teams app is initially provided by DRACOON as a zip file.
Download it here:

Open Microsoft Teams admin center in the browser.
In the left navigation bar, go to Teams apps > Manage apps.
Click the + Upload link.
Click the Select a file button and select the zip file that you downloaded.
DRACOON for Teams is now available for your users to being added individually in Microsoft Teams under Apps in the Built for your org section: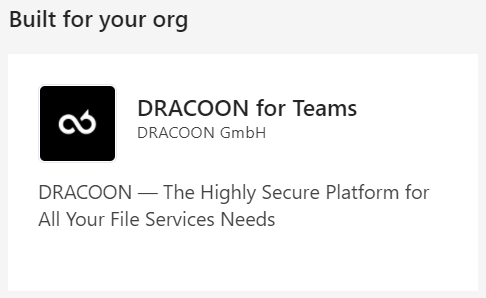 In the near future, DRACOON for Teams will be released in the general Microsoft Teams App Store, eliminating the need for deployment via zip file upload.
Step 3: Add DRACOON for Teams to all team members
If you want DRACOON for Teams to be automatically available to all members of your team, and you don't want them to have to manually add the app before they can use it, follow these steps:
In the Microsoft Teams admin center, under Teams apps > Manage apps, select the DRACOON for Teams app, and then click Add to team.
Enter the name of your team and click the Apply button at the bottom.
DRACOON for Teams is now automatically available to all members of your team in chat messages and channel conversations: